Save 50% On Perfect Biotics
Deal Activated, no coupon code required!
Shop 1 perfect biotics and get 1 free with a discount deal of 50% at Probiotic America.
Expires: No Expires
Submitted: 4 years ago
Change Your Life Today With
Probiotic America
Nowadays, we lead a very unhealthy lifestyle by consuming a considerable amount of junk food. We human don't take food regularly, not enough sleep; eating habit is improper. As a result, our immune system became weak, and the body became unhealthy.
Probiotic America brings a high-quality digestive health care supplement to treat your health problems. Bacteria are not necessarily a bad thing. To some extent, they are very beneficial for your body. This probiotics tablet contains live bacteria known for health-promoting effects, especially in the intestine. It includes 30 billion colony-forming units (CFUs) per capsule. Your lifestyle causes a massive life of this good combat bacteria of your body. Not only this, but you can also survive against diseases like diarrhea, food poison, and many other health issues.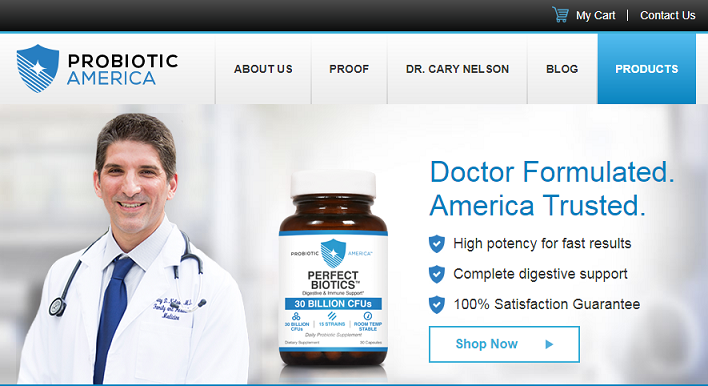 For a 30 capsule bottle, it costs $69.95. When you break it down to a daily cost, it ends up being $2.33 per day. The pricing is straightforward, and you get something powerful than medicines. If you are not happy with the product's quality, Probiotic offers a 100% Money Back Guarantee, so you have nothing to lose!
How To Use Probiotic America Coupon Code
Visit the savingmojo.com official website and then choose a coupon for products you like by click " Get Coupon."
Copy the coupon code and enter your code at checkout to save the best money for you.
Or, if you see it is a deal ( not a code ), click " Get Deal " to view and save money.
Apply the coupon code in the given field.
Fill in your details along with payment details.
Proceed towards checkout now.
Types Of Probiotics
There are three types of perfect biotics. Each biotic supplement contains a unique blend of bacterial strains. They listed as below:
Perfect Biotics for Digestive & Immune Support
Perfect Biotics + (all-new nine strains to complement your Perfect Biotics order)
Perfect Biotics SLIM (Weight Loss)
Biotics for Digestive & Immune Support
This Perfect Biotic supplement is claimed to promote a healthy digestive system and boost immunity. It can improve gas, bloating, digestive issues, and your immune system to "run at full strength." This supplement contains 15 probiotic strains.
Perfect Biotics +
This supplement includes an "industry-leading 13 probiotic strains for maximum effectiveness", nine of which are all new strains for relief from digestive discomfort. Some of them listed below:
Bifidobacterium Lactis, Lactobacillus Plantarum, Lactobacillus Rhamnosus, Lactobacillus Salivarius, Lactobacillus Bulgaricus, Bifidobacterium Breve, Lactobacillus Paracasei, Lactobacillus Casei.
Perfect Biotics SLIM
This Biotics SLIM can help you fight cravings, improve digestion, increase metabolism, and boost energy levels. It contains four premium ingredients for weight loss which are listed below:
Probiotic Blend: 

Lactobacillus acidophilus, Bifidobacterium Lactis, Lactobacillus Plantarum, Lactobacillus Rhamnosus, Bifidobacterium Animalis

Craving Control Blend: 

Slimaluma.

Digestive Enzyme Blend: 

Amylase, Bromelain, Lipase

Weight Management Blend: 

Green Tea Extract
Pros
CFU count is large enough for the supplement to be effective.
The supplement doesn't need refrigeration for proper storage.
It delivers digestive and immune support at the same time.
Discounts are available for bulk purchases.
Suitable for all people, especially individuals suffering from GI distress
Cons
A bit expensive.
Only available for purchase online.
FAQ
Probiotics Can Do What Antibiotics Sometimes Can't
Certain bacteria can develop a resistance to antibiotics. They can even warp into "superbugs" that fight off antibiotics altogether!
This is such a big concern that the US government has put together a five-part "National Action Plan" to figure out how to fight these "superbugs."
But probiotics are the first line of defense against "bad" bacteria, including "superbugs." When you've got the right balance of good bacteria in your gut, the harmful bacteria that cause illness are kept in check.
What happens when you start taking probiotics?
When first using probiotics, some people experience gas, bloating, or diarrhea. Changes in gut microbiota can result in bacteria producing more gas than usual, leading to bloating. However, these side effects usually clear up within a few days or weeks of taking probiotics.
Conclusion
The probiotic industry is booming nowadays. Probiotic America's mission is to create an awareness of probiotics to improve all human beings' health and lives.
Probiotic supplements are perfect for restoring the intestinal. These products usually contain live bacterial promotion that improves digestion and may strengthen the immune response as well. Probiotic America is one such product. The pricing is straightforward, and if you are not satisfied with this product, you can look for a 100% money-back guarantee.
SavingMojo always brings new and special discount offers, deals, coupons, money-saving tips, ideas for their users! Get your application code or deal and save your bucks as much you can.