Get 14-Day FREE Trial
Deal Activated, no coupon code required!
Get a free trial on any plans for 14 days at ScoutlQ.
Expires: No Expires
Submitted: 3 years ago
Make Money By Selling Books with
ScoutIQ
If you want to earn money by selling books on Amazon, this is the app for you!
ScoutIQ helps you scan it, list it, and sell your book on Amazon at a very profitable rate. It provides hustle or full-time business opportunities with Scout IQ. The interface is immaculate and user-friendly. The software looks good and working well too. Whether you sell merchant fulfillment or FBA items on Amazon, ScoutIQ's mission is to leverage data to help you in Scout; it's not a difficult job.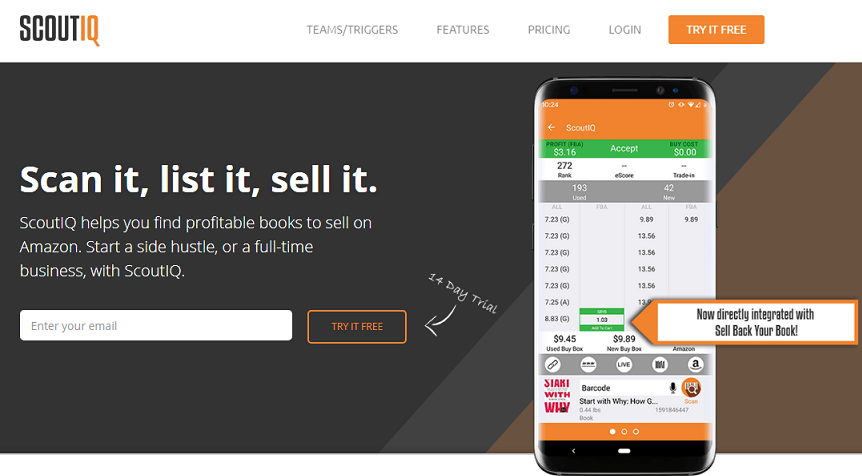 How To Use ScoutIQ Coupon Code
Visit our official website and then choose a coupon for products you like by click " Get Coupon. "
Copy the coupon code and enter your code at checkout to save the best money for you.
Or, if you see it is a deal ( not a code ), click " Get Deal " to view and save money.
Apply the coupon code in the given field.
Fill in your details along with payment details.
Proceed towards checkout now
How It Works..?
Database Only – The entire ScoutIQ book database can be downloaded to your mobile device to scan any book and access its data offline. This is perfect when you're in an area with poor cell reception or don't want to pay for data charges on your phone. The database model is about five times faster than the live mode, allowing you to scan to find profitable inventory. You can also download the ScoutIQ app to an iPod Touch or a similar device to access the books database without paying for a mobile service plan. This is like a modern approach to older PDAs that are sometimes used for book scouting.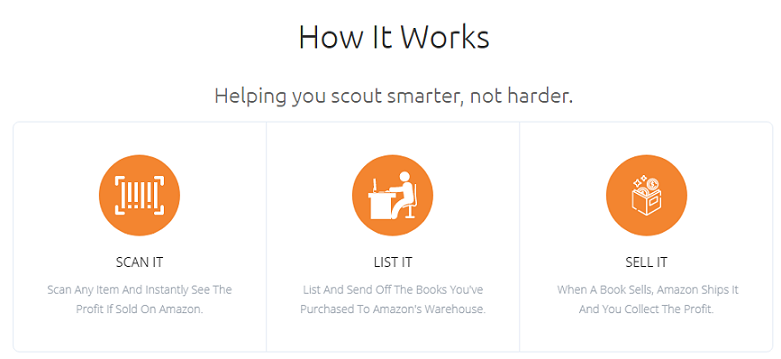 Database + Live – This is a hybrid solution that looks up books in the database first, and if the book isn't in the database, it will look for it live through Amazon's API. Although ScoutIQ has most of Amazon's titles in its database, there are always new titles published that haven't found their way into our database quite yet. When you scan a book that is not currently in the database, this mode will show you the results in live time (minus eScore and Amazon's price) and add that ISBN into the database within a few days so other scouts can benefit from a more comprehensive database.
Live Only – As its name implies, there is no database element to perform the lookup. The data will be as fresh as possible because it is pulling directly from Amazon and not from a database that can be 12-24 hours old. You can view all product categories using live mode. You'll still get the eScore and Amazon pricing, but each scan would take about five times longer to load if you were accessing it via a downloaded database.
Merits
Support is top-notch
It's the only app to reveal the accurate lowest FBA price every time.
You can access their data with a smartphone – iPhone or Android.
Demerits
It's fetching up the current data, and it takes a second or two to pull in all the data points.
 You have to click around several times in the app before you can look up the next book.
FAQ
What countries are supported?
Currently, the ScoutIQ database only supports the United States. Although, the company is actively looking to expand into other countries that receive enough interest.
Are there discounts for multiple accounts?
Yes! Additional accounts are $10 a month for the live-only plan or $30 a month for data + live. Sign up within the ScoutIQ portal and click "Team" in the top bar to add a team member to your account. The "Team" feature is only available on plans with a Data + Live subscription.
Is ScoutIQ only for books?
No! With ScoutIQ, you can do live lookups for any item on Amazon just by scanning the barcode.
Do I need a professional Amazon account?
To use the database only, a professional seller's account is not needed. To use live lookups, an experienced seller's history is required.
Last Words
If you are serious about flipping books, then invest money for yourself and your future by spending money on a real scouting app. It provides hustle or full-time business opportunities with Scout IQ. Sign-up with your mail-id and try any plan for a 14-day free trial.
Download the Scouting Scout app on your smartphone, designed specifically for Amazon sellers. Get great discounts and offers on SavigMojo.com to post your book at a reasonable rate.